For a long time, people have been talking about the potential of Twitter as a news source. Today, Twitter earned its stripes.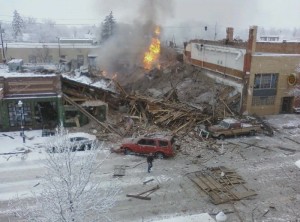 At 8:12 a.m. MDT, an explosion rattled downtown Bozeman, Mont., destroying three whole buildings and at least five businesses. Shortly after the explosion, few people outside of the immediate downtown area knew anything about the growing crisis.
But Twitter knew. A handful of people were already posting to Twitter, probably from their phones, wondering, in essence, "What the hell just happened?" It was the beginning of what would become a flood of information about the explosion, all posted in real time to Twitter, 140 characters at a time.
I knew that something had to be done to organize things, and I knew that the best way to do that was to create a hashtag. So I came up with #bozexplod, and eventually other people started to use it. In fact, a lot of people started using it.
How many? I'm not sure, but at one point during the day #bozexplod was the second most popular trending topic on Twitter. — As a side note, related Google searches for "bozeman daily chronicle" (the local newspaper) and "bozeman explosion" were the number one and two searches on Google for a few hours.
What got posted? Eyewitness reports, rumors, unconfirmed facts about casualties, phone numbers to call for help, phone numbers to call to volunteer to help, quotes from press conferences, links to photos, links to news stories.
People were responding to each other, answering people's questions about what was going on. People were self-regulating each other too. Remember those unconfirmed rumors about casualties and missing victims? They were squashed almost as soon as they were posted. Discussions were held through the non-public direct messages.
Citizens journalists showed restraint, just like pro journos.
For a town where it's rare for a news organization's Web site to update more than once a day, the volume of news about Bozeman that flowed through Twitter was like a dam break.
People kept sharing the search.twitter.com address for the hashtag, which meant that people who weren't even members of Twitter could follow the feed. And they did, according to all the reports I received. Very little work got done in the offices around Bozeman today: all eyes were glued to http://search.twitter.com/search?q=%23bozexplod.
Yes, the Bozeman Daily Chronicle, KBZK (CBS), New West-Bozeman and other local news outlets got their stories out, eventually. (I think the Associated Press had its first few paragraphs out around 10 a.m.)
But Twitter got there first.
The story is encapsulated by one blog post I found from a man who lives in Livingston, a two 25 miles east of Bozeman (and over a mountain pass). He wrote:
A few minutes ago my cousin's wife updated her Facebook status looking for updates on the explosion this morning in Bozeman. They live in Livingston, MT. Their radio and TV stations did not have anything.

I did like many others and went right to Twitter Search to get the update. Found a Livingston radio call-in show and am listening live now. It's amazing how once again the people are way ahead of the media. I hope that the current status of no injuries or fatalities stays that way.
A response to his post also tells the story of the day:
twitter was really the only place i could find with good info with the exception of kmms.
Another message came (via Twitter) from a man in New Zealand who has a business-owner sister in Bozeman:
@superjaberwocky Am in New Zealand. Sent my sister (a Bozeman business owner) info from you. She loved getting news of 3:00 meeting from NZ.
This is the information access that Twitter can provide, and, if I may point out, only handful of that information came from people at the scene. Most of it, the majority of it, was generated by people using the Web to its fullest and reporting whatever they could as soon as they could.
Will this sort of thing ever replace those journalists who went into the blast zone this morning, the ones who stood at the press conferences and asked questions? No. Not at all. But Twitter did a job that traditional journalism could not possibly do in a city of this size. It informed the people as quickly as events happened and let people know what they needed to know right away.
A lot of people think of Twitter as little more than idle chatter in 140-character segments. I think that the Twitterers of Bozeman proved that view wrong today. I just wonder if what we can learn from this that we can apply to normal, non-crisis journalism.
I'm willing to entertain ideas and suggestions. You can find me on Twitter if you want. http://www.twitter.com/superjaberwocky