For a long time, peo­ple have been talk­ing about the poten­tial of Twitter as a news source. Today, Twitter earned its stripes.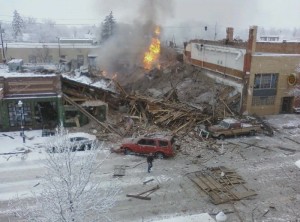 At 8:12 a.m. MDT, an explo­sion rat­tled down­town Bozeman, Mont., destroy­ing three whole build­ings and at least five busi­nesses. Shortly after the explo­sion, few peo­ple out­side of the imme­di­ate down­town area knew any­thing about the grow­ing crisis.
But Twitter knew. A hand­ful of peo­ple were already post­ing to Twitter, prob­a­bly from their phones, won­der­ing, in essence, "What the hell just hap­pened?" It was the begin­ning of what would become a flood of infor­ma­tion about the explo­sion, all posted in real time to Twitter, 140 char­ac­ters at a time.
I knew that some­thing had to be done to orga­nize things, and I knew that the best way to do that was to cre­ate a hash­tag. So I came up with #boz­ex­plod, and even­tu­ally other peo­ple started to use it. In fact, a lot of peo­ple started using it.
How many? I'm not sure, but at one point dur­ing the day #boz­ex­plod was the sec­ond most pop­u­lar trend­ing topic on Twitter. — As a side note, related Google searches for "boze­man daily chron­i­cle" (the local news­pa­per) and "boze­man explo­sion" were the num­ber one and two searches on Google for a few hours.
What got posted? Eyewitness reports, rumors, uncon­firmed facts about casu­al­ties, phone num­bers to call for help, phone num­bers to call to vol­un­teer to help, quotes from press con­fer­ences, links to pho­tos, links to news stories.
People were respond­ing to each other, answer­ing people's ques­tions about what was going on. People were self-regulating each other too. Remember those uncon­firmed rumors about casu­al­ties and miss­ing vic­tims? They were squashed almost as soon as they were posted. Discussions were held through the non-public direct messages.
Citizens jour­nal­ists showed restraint, just like pro journos.
For a town where it's rare for a news organization's Web site to update more than once a day, the vol­ume of news about Bozeman that flowed through Twitter was like a dam break.
People kept shar­ing the search.twitter.com address for the hash­tag, which meant that peo­ple who weren't even mem­bers of Twitter could fol­low the feed. And they did, accord­ing to all the reports I received. Very lit­tle work got done in the offices around Bozeman today: all eyes were glued to http://search.twitter.com/search?q=%23bozexplod.
Yes, the Bozeman Daily Chronicle, KBZK (CBS), New West-Bozeman and other local news out­lets got their sto­ries out, even­tu­ally. (I think the Associated Press had its first few para­graphs out around 10 a.m.)
But Twitter got there first.
The story is encap­su­lated by one blog post I found from a man who lives in Livingston, a two 25 miles east of Bozeman (and over a moun­tain pass). He wrote:
A few min­utes ago my cousin's wife updated her Facebook sta­tus look­ing for updates on the explo­sion this morn­ing in Bozeman. They live in Livingston, MT. Their radio and TV sta­tions did not have anything.

I did like many oth­ers and went right to Twitter Search to get the update. Found a Livingston radio call-in show and am lis­ten­ing live now. It's amaz­ing how once again the peo­ple are way ahead of the media. I hope that the cur­rent sta­tus of no injuries or fatal­i­ties stays that way.
A response to his post also tells the story of the day:
twit­ter was really the only place i could find with good info with the excep­tion of kmms.
Another mes­sage came (via Twitter) from a man in New Zealand who has a business-owner sis­ter in Bozeman:
@superjaberwocky Am in New Zealand. Sent my sis­ter (a Bozeman busi­ness owner) info from you. She loved get­ting news of 3:00 meet­ing from NZ.
This is the infor­ma­tion access that Twitter can pro­vide, and, if I may point out, only hand­ful of that infor­ma­tion came from peo­ple at the scene. Most of it, the major­ity of it, was gen­er­ated by peo­ple using the Web to its fullest and report­ing what­ever they could as soon as they could.
Will this sort of thing ever replace those jour­nal­ists who went into the blast zone this morn­ing, the ones who stood at the press con­fer­ences and asked ques­tions? No. Not at all. But Twitter did a job that tra­di­tional jour­nal­ism could not pos­si­bly do in a city of this size. It informed the peo­ple as quickly as events hap­pened and let peo­ple know what they needed to know right away.
A lot of peo­ple think of Twitter as lit­tle more than idle chat­ter in 140-character seg­ments. I think that the Twitterers of Bozeman proved that view wrong today. I just won­der if what we can learn from this that we can apply to nor­mal, non-crisis journalism.
I'm will­ing to enter­tain ideas and sug­ges­tions. You can find me on Twitter if you want. http://www.twitter.com/superjaberwocky