The push is on in Washington to enact an Internet sales tax.
Yesterday, the Senate voted 69-27 in favor of the Marketplace Fairness Act. The bill would give states the authority to force online retailers to collect appropriate state sales taxes on all transactions.
Right now, online retailers don't have to collect state sales taxes if they don't have a presence in the state where their customers live. The burden is on customers, who are supposed to pay the tax on those transactions themselves, Chris Morran at the Consumerist explains.
Supporters of the bill say the way the system works now is unfair to brick-and-mortar businesses. Since sales tax is not added automatically to many online purchases, it makes prices from online stores seem cheaper, according to the Retail Industry Leaders Association, which has dubbed the issue "E-Fairness."
"A sale is a sale, whether it happens online or in a store. But for too long government has given some online retailers an advantage over their Main Street peers by allowing them to avoid collecting the sales tax owed on purchases made online," RILA says in its position on the bills working their way through both houses.
The National Retail Federation also applauded the Senate's action.
"Retailers compete for customers on many different levels, distribution channels and fronts, including service and selection, but they cannot compete on sales tax," said the federation's board chairman, Stephen I. Sadove. "Congress needs to address this sales tax disparity and allow retailers to compete freely and fairly. Retailers of all shapes, sizes and channels deserve a level playing field."
NRF also created this video explaining E-Fairness.
Opponents of the Senate bill, such as the economic advocacy group R Street Institute, say it is poorly written and "misguided."
"By wiping away geographic limits to state tax authority, the bill would impose serious burdens on Internet retail and undermine basic tax policy principles," R Street Institute fellow Andrew Moylan said in a written statement.
The institute has even published a list of what it calls myths or misconceptions about the Marketplace Fairness Act.
Moylan said a more sensible approach would be "origin sourcing," in which online retailers would be held to the same rules as brick-and-mortar stores, collecting taxes for their physical location rather than for where their customers are located.
A number of groups have joined R Street Institute against the bill, including Americans for Tax Reform, the Center for Freedom and Prosperity, Freedom Works, the Heartland Institute and Americans for Prosperity.
Montana Sen. Max Baucus has said he will not support such a law, which he says would force Montana businesses to "play tax collector for other states."
"Small businesses need to focus their time on creating jobs, not playing tax collector for other states," Baucus said in a written statement. "This bill is bad for Montana businesses, and I'm going to keep fighting to make sure it doesn't become law."
Baucus spoke against the bill in this video from the Senate floor posted to YouTube on April 22.
The Great Falls Tribune noted that Montana, Alaska, Delaware, New Hampshire and Oregon would not see any money coming in as a result of the bill because they don't have sales taxes.
Sen. Jon Tester also opposed the bill, saying it was "insulting" that other states couldn't manage their budgets "without reaching into the pockets of Montana's businesses."
"In Montana, our budget has a surplus because we've handled our money wisely," Tester said in the Tribune. "We don't have a sales tax and have twice vot­ed against having one. This bill would impose new tax burdens on small businesses and create more bureaucracy and more accountants. It's bad policy that will fundamentally alter the rights of states."
The bill moves now to the House of Representatives, which is expected by many to be a tougher road than the bill's swift passage through the Senate.
Montana's sole representative in the House, Steve Daines, is expected to vote against his chamber's version of the bill, MTN reports.
The USDA announced Wednesday that a $20.8 million loan to a Montana telecommunications company to help improve rural broadband service.
InterBel Telephone Cooperative in Eureka, Mont., will use the money to complete a fiber-to-the-premises network and meet future growth demands. The company celebrated its 50th anniversary April 13.
In a written statement, U.S. Secretary of Agriculture Tom Vilsack said the loan provides necessary telecommunications services to help rural economies.
"Broadband offers rural communities greater access to educational, health care, business and social services and opens the door to increased global competition," he said. "As part of the Obama Administration's goal to improve infrastructure, we continue to fund projects that expand broadband service in rural areas."
Also announced Wednesday was a $5.2 million loan for Hartington Telecommunications Co. of Nebraska for a fiber project.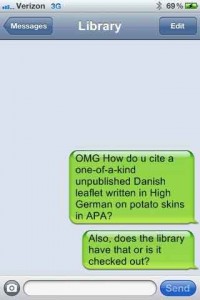 Here's a fun one, just in time for finals week at Montana State University.
The Renne Library on campus, where I once toiled as a shelver and circulation desk worker while attending MSU, has been embracing all things digital over the past few years, revamping its website and offering multiple ways to connect with reference librarians.
Now, according to a post on the library's reference desk blog, students or the public can converse with a reference librarian via text message.
Reference team leader Greg Notess said the text service has actually been in place for about a year. The recent blog post was a reminder for those students fighting with end-of-semester deadlines who might need a librarian's help.
The texts go to a computer at the reference desk, where librarians will respond and attempt to answer questions they same as they would for someone who came to the desk in person.
"It's often the same kinds of questions we'll get other ways," Notess said. "It's not always easy to answer questions via text — certain ones anyway."
The texts ask about library services, equipment, hours, how to find certain databases online, how to format certain citations for research bibliographies and even general questions about writing academic papers.
Notess said that the service is not heavily used — it receives perhaps one text per day during the busiest times of the school year. Still, it's not about how many people use it but about being available in whatever medium students communicate in, he said.
"It's just using whatever the current technologies … to let students and staff get in touch with us in whatever their preferred method is," Notess said.
"Sometimes people are texting us even from within the library, even though they could walk up in person," he added, noting that sometimes a question needs to get an answer right away, without picking up and moving.
Texts can be sent to 406-219-1060. Hours are Monday-Thursday 8:30 a.m. to 9 p.m.; Friday 8:30 a.m. to 5 p.m.; and Sunday 1 p.m. to 9 p.m. during the regular semesters.
I have watched enough cable television news in the past seven days to suit me for a year.
I'm pretty sure a lot of people in Boston and around the country feel the same way. Between the bombings on the East Coast and the fertilizer plant explosion in Texas, it was a hell of a week.
But I'm not sick of cable TV news because of what happened, I'm sick of the news because of the news coverage itself. Beyond the fact that CNN and other news organizations got a few minor details wrong, the terminology used by the television anchors and reporters upset me so much that I found myself yelling at the TV in the newsroom.
The peeves deal with jargon — a trap that even good reporters can fall into from time to time. It happens to reporters who get too close to their beats to remember that the general public doesn't understand the lingo used by officials.
Jargon is what changes "thrown from the vehicle" into "ejected from the vehicle." It's what changes money raised for campaigning into a "war chest." It turns a man into a "male" and a woman into a "female." It turns "ran away" into "fled on foot." Et cetera.
Jargon gets used for a lot of reasons. Academics write in academese so that they can fit in with other academics and so that people will take their ideas seriously — even if we can't make out much of what they're writing because it is so hedged, passive and indirect. Government officials write in bureaucratese because we wouldn't trust them if they wrote in plain English — which doesn't sound very official anyhow. Sports writers fill their prose with slang and nicknames for sports events because it marks them as "insiders" and helps the readers at home to feel that way too.
TV reporters use jargon for all these reasons. On camera, it sounds much more important to use the terminology employed by authorities. It lends the reporters and anchors an air of officialness and credibility. I'd also argue that it the official language is used to keep viewers slightly afraid and therefore more likely to come back to that particular network to find out what it is they should be afraid of next. (I'm hardly the first to accuse TV news of fearmongering, by the way.)
I'm going to leave behind the ridiculous "shelter in place" jargon that infected Friday's coverage (How hard is it to say "Police have urged residents to stay in their homes.") because there's a more important piece of jargon that was batted around Friday: IED.
We all know what an IED is, right? It's a military acronym for "improvised explosive device" that came into prominence during the fighting in Iraq. Typically, we think of IEDs as the roadside bombs that destroy military vehicles and kill and maim troops.
In fact, that association is so strong that I dare say it's impossible to use the term "IED" without connoting images of dusty Iraqi roadways and tan Humvees.
So when reporters on the streets of Boston are calling the bombs "IEDs," they are connoting something: Conflict in the Middle East, the "War on Terror."
Keep in mind, this term was being used long before police and federal agents had named suspects, long before we found out those suspects were not in fact from the Middle East but were Bostonians originally from somewhere near Russia.
Using "IED" to describe the "bombs" these guys allegedly made is wrong because it immediately labels the suspects as terrorists on par with the insurgents the Army fought in Iraq, and that is an unfair comparison when few facts are actually known about their motivations or indeed about the accused bombers themselves. I'm not the only one who feels this way, either.
On top of that, I argue that IED is just plain inaccurate. A bomb made at home in your garage with planning and intent (I assume) is not "improvised." It's a bomb.
Perhaps we can only call a bomb a "bomb" if it came from the bomb factory premade? Then everything else must be improvised, right?
You readers are probably rolling your eyes at me as much as the people in the newsroom were on Friday, but I'm an editor and it's my job to care about words.
So until that changes, I'll call a bomb a bomb and leave the improvised devices to MacGuyver.
If you are a Twitter user in Bozeman, there is a good chance you have followed an account called @bznpolicereport.
The account posts the infamous Bozeman police reports. Its description: "Funny police reports from Bozeman, Montana. If you like these, take a look at the book" and then provides the URL for the page to buy a copy of the Chronicle's book. The account lists its homepage as the Chronicle's.
But there is another account called @police_reports. Its description labels it as "The official source of the world famous Bozeman Daily Chronicle police reports on Twitter. It lists its homepage as the police reports page on the Chronicle site.
The former account has 2,936 followers. The latter has 88. The former posts text only status updates; the latter posts truncated text updates with links back to a Facebook page. The former joined Twitter in March 2009, the latter in July 2011.
One of these accounts is controlled by the Bozeman Daily Chronicle. The other is not.
I'd like to say that the one with nearly 3,000 followers is ours, but it isn't. In fact, I have no idea who operates it or how — automated or hand-crafted.
What does the Chronicle intend to do about it this egregious case of intellectual property theft?
Nothing. In fact, I have a hard time calling it theft at all.
Twitter has guidelines for parody, commentary and fan accounts. Technically, the @bznpolicereport account fails to follow a few of these guidelines, but it has upheld the important one:
"The account should not, through private or public communication with other users, try to deceive or mislead others about your identity. For example, if operating a fan account, do not direct message other users implying you are the actual subject (i.e., person, band, sports team, etc.) of the fan account."
The account may post Chronicle content, but the only links on it go back to the Chronicle site and in fact promote our book — sales that the owner of the Twitter account doesn't benefit from in any way (that I know of).
So we remain in this odd situation of an unofficial entity holding more sway than the official entity. It's kind of weird to think about someone out there liking your product so much that they promote it for free and without self benefit (that I know of).
It sure would be neat to know who the person is.
Lawmakers in Wyoming are looking at whether local governments should still be required to publish legal notices in newspapers or whether they can be published online instead.
The Wyoming Tribune Eagle reports that an interim committee will look into the matter as a way for governments to save money.
Wyoming press representatives say that publishing legal notices solely online will reduce the public's access to information and provide a less firm historical record.
"These notices aren't just in there for giggles," said Jim Angell, executive director of the Wyoming Press Association. "They are requirements to help keep people informed about what is being done with their money and resources.
Legislators noted that smaller counties in Wyoming can spend as much as $25,000 a year on legal advertising while larger counties spend up to $90,000.
Montana law, for those of us north of the border, has its own mandates for public notices printed in newspapers: Here and here.
(There are also interesting guidelines on pricing and even on font sizes in the other sections of Title 18, Chapter 7, Part 2.)
Wyoming's investigation is part of a larger trend. Governments across the country are cutting costs and legislators are targeting legal ads as an easy cut to make. Poynter's Rick Edmonds sums up the state of the nation (circa 2012) here.
The only related bill I could find in the current Montana Legislature is Bridget Smith's House Bill 258. The bill seeks to revise the laws to account for the failure of a newspaper to publish the notice a second time (a legal requirement).
Basically, Smith says that if a newspaper fails to publish the legal notice a second time that the government should still be considered to have met the notification requirements.
Smith's bill passed the House on Feb. 6 by a vote of 86-11 and was referred to the Senate Local Government Committee on March 11. No action has been taken yet.
I'm talking local journalism ethics again today, and once again the discussion is prompted by an NBC Montana reporter. And, once again, that reporter is Lauren Maschmedt.
This time, it was Maschmedt's report on a local meeting of the Bozeman Business and Professional Women and its honors program, which gives awards to outstanding women.
Guess who was a nominee for Young Careerist? Lauren Maschmedt.
Sigh.
Well, at least she didn't quote herself.
Every six months or so, I get the inkling that it's time to redesign the Chronicle's website. Today was the culmination of another of those inkling periods.
I flipped the switch on a new look for the Chronicle today, one that I think makes it easier for readers to find what they are looking for, whether is by menu, search or by simply browsing the pages.
Let's run through the highlights.
Rebuilt from the ground up
I took the old header, trashed it and built a brand new one that takes advantage of the Bootstrap grid system, rather than the default grid system that came with our site. Both grid systems worked fine, but Bootstrap grids are easier to customize and are easier to tweak if changes need to be made.
New feature: Top bar
We previously had some navigation elements above the logo of our website, but now that element has been improved. It is now set off in a dark gray color and includes more useful links right where they should be: highly visible at the top of the page.
When you're logged out, you'll see a link to log in or to subscribe if you have not yet joined the faithful. When signed in, you'll have direct access to manage your BDC account, logout or go straight to your e-Chronicle subscription.
We've also placed gold-colored links to the most commonly browsed sections of our classifieds in this bar for easy access.
Search back up top
My grant experiment with placing the search bar in a floating menu at the bottom of the page was a valiant one, but ultimately it failed.
I got one or two calls a week from people who thought we had disabled search on our site or that we didn't make our archives available. When I would direct them to the bottom bar and its search form, I could hear them slap their foreheads through the phone and say, "Of course, it's right there!"
However, it should have been right where they were looking for it, right where 95 percent of websites keep their search bars — at the top of the site.
Rest assured, as long as I'm around and as long as it remains a staple of Web design, the search bar will remain at the top.
New weather icons
I replaced the weather icons will all new ones. The old ones, which were the content management system's default icons, hurt my eyes to look at them. These are prettier and easier to read.
New menu
Previously, we used what is commonly called a "mega menu," one that has super wide menus that contain all sorts of content, kind of like a website within a website.
However, that made the navbar itself a destination that was distracting people from the content actually on the page, and with the complexity of the mega menus, I'm not convinced it was making it easier to find anything.
The new menus are standard dropdowns with submenus, familiar to anyone who has used a computer in the past 30 years. They include all the options that were there before, organized in what I hope is a rational way, along with a few icons for visual cues.
One thing that always bugged me about the menu was that it had a "home" menu. To my mind, the "home" feature of any navbar should be a link to the homepage, not a menu to collect random things that have to do with the site — contact us, about us, staff directory and that sort of thing.
To that end, we included a simple menu button with an icon that should be familiar to most modern computer users. Under here, you'll find all that site-related stuff, as well as a way to log in and log out, manage your account and reach your e-Chronicle subscription.
One more thing: Scroll down, and you'll notice the navbar sicks with you as you move down the page. So you see, I stuck with the sticky menu idea somewhat, though in a more useful way than before.
New section titles
Our section titles have been retooled to stand out more to the eye with a blue gradient background that matches our header. The old section titles, red text with an underline, were not visible enough.
Reorganized homepage
The homepage has been reorganized to put the content people are after where they are going to see it. Since the layout of the homepage changes fairly often, as seasons change and as features come and go, I won't go into too much detail here, but feel free to explore.
New headline font
Just because it looked nice.
Reworked search results
I also did some work on the search results to make them a little more viewer friendly. The results should look a little nicer when you're searching for images, and the other results should provide a little more relevant information in a more readable format than before.
And that's about it
It's all over but the tweaking. Feel free to let me know what you think of the cosmetic change.
Now if you'll excuse me, I have to go start planning the next redesign.
Update: Since originally publishing this post, another link has surfaced to the full report, written by Maschmedt herself. Apparently the Will Wadley story was only a brief waiting for the full report.
Indeed, the link to the Wadley verison now takes you to Maschmedt's story.
And what do we learn in the full story? Contrary to what was reported earlier, we now learn that the fishermen never left the river side with the ID and did not appear in the video at least to give it to the reporter.
However, Maschmedt does say it was her who called the Anaconda police chief to come pick up the ID personally (and be on camera the whole time).
What's left unclear is just how Maschmedt came upon the men on Sunday afternoon. The story glosses over that detail:
When we caught up with the fishermen on Sunday afternoon, they were just getting ready to turn in the ID. So we called Anaconda Police Chief Tim Barkell, who immediately came out to retrieve it.
(Replace the pronoun "we" in the text version with "I" and you have the script for the video version.)
So what happened? The way I see it, there are a couple possibilities. Either the anglers called the reporter and revealed that they'd found something in the water — which to my mind would mark them as die-hard NBC Montana viewers — or Maschmedt was working a Sunday shift with nothing else to do but tool up and down the Clark Fork looking for anything that might have had to do with Salle's disappearance.
Both of these seem unlikely to me, but I cannot think of any other possibilities that don't make me sound like a conspiracy theorist.
No matter how she found the fishermen, Maschmedt injected herself into the story by summoning police for the people she was interviewing for a story.
This was no typical interview. In a typical interview, it's understood that the reporter arranged time to speak with the subject. The situation is artificial, but that artificiality is known to the readers or viewers.
In this case, Maschmedt had her interviews with the anglers, but then she manufactured their meeting with the police chief by summoning him for the fishermen.
Rather than being the public's eye recording what was happening — a reporter, Maschmedt orchestrated the meeting, putting reality on her schedule and in front of her camera.
—
Deja vu.
Tonight, reporter Whitney Bermes turned me on to a story involving NBC Montana reporter Lauren Maschmedt on the discovery today of a driver's license belonging to a missing woman. Fishermen found the license along the Clark Fork near where a dead body — likely that of the missing woman — was found Saturday.
According to the report, the fishermen handed the ID to NBC Montana reporter Maschmedt, who then turned it over to authorities "to be used as evidence."
Haven't we been down this road before?
There is a crucial difference this time. Maschmedt didn't write the story herself; it's bylined by Will Wadley of KECI. That's good. It prevents the sort of conflict of interest the earlier situation represented.
However, it does possibly open Maschmedt to being called as a witness in later legal proceedings. Certainly police had to take a statement from her, I'm assuming, when she presented physical evidence in the case of a missing woman. (I suppose I don't want to assume too much.)
And let's not forget that this was not simply a good deed. Maschmedt made sure to document the whole situation for TV, as she noted on her journalist Facebook page:
still in shock over my story- not only did I come across fishermen who found evidence from a murder, I helped them get it to police, and caught it all on film. the ID for the missing Anaconda woman Tammy Salle was found near where her body was found confirming its her
Now, I don't watch NBC — we can't receive it over the antenna at my house in the middle of Bozeman of all places — but I'm fairly sure they would have trumpeted the fact that this new discovery was facilitated by an NBC reporter. I know I like it when the newspaper gets a good scoop.
I'm torn. Certainly, I support journalists being able to accept evidence of all sorts of things — leaked documents, classified materials and such. However, physical evidence relating to a criminal investigation — one of a kind items, like a murder weapon or dead woman's license — something that you would be compelled to turn over to police and something that no shield law could keep in your hands…
Seems a bad path to walk down. Perhaps it would have been better in this case to follow the fishermen with her camera to watch as they turned the driver's license over to authorities.